Veteran Entrepreneur Spotlight: Donald Coolidge
Author: Hannah Henry
Work Readiness
Published: Monday, 12 Nov 2018
---
Sharing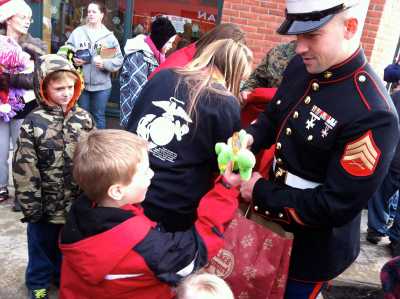 Image caption: A Marine Soldier greeting children
How does a veteran's military skills, training, and knowledge translate to a business startup? One word..."Vetrepreneurship." In America, U.S. businesses that are majority-owned by veterans make up 9.1% of the business landscape. That?s over 2.5 million businesses in our nation that are owned by those who have served in the military.
To celebrate Veteran's Day, JA wanted to shine a spotlight on a business owner who utilized his technical skills in the Marine Corps to build the successful tech-savvy company Elemental Path.
We spent some time with Donald Coolidge, veteran and owner of Elemental Path, to discuss his journey into entrepreneurship and what he feels it has to offer to the (not so) "Average Joe".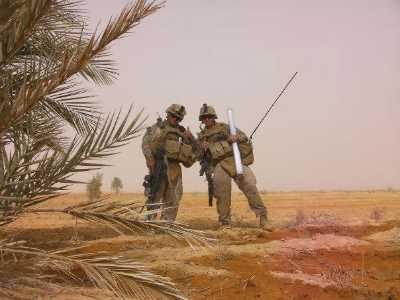 JA: What aspect of entrepreneurship attracted you the most?
DC: I wasn't really attracted to entrepreneurship... It's sort of one of those things that snuck up on me. I had, throughout my late teens and in college and even in the Marine Corps, started dabbling in creating businesses, recognizing what I thought would be a viable business and figuring out how to put the building blocks into place. I never thought that I wanted to be an entrepreneur -- It was always this natural organic thought in finding an opportunity. The things I dabbled with didn't turn into much for whatever reason. But in New York, while in the Marine Corps Reserves, trying to finish my grad degree and create a career for myself, I started to build tech products with another Marine in my unit. I liked the ability to build something and have people use it and see how it provides value. Instead of seeing myself as an entrepreneur, I recognized there is a need here...how do I create something and fulfill that need by scaling and growing it?
JA: What have you found to be the most rewarding part of being an entrepreneur?
DC: With the good comes the bad. There is a lot of responsibility, which I like. There are two perks I have discovered; working with a bunch of awesome people and allowing those people to pursue their passion by creating something that matters and is meaningful and to enjoy the work experience through our company. On the other end, we create some pretty amazing products that are having a pretty awesome impact on kids and families around the world, which is one of the most rewarding aspects. I?m sitting at my desk right now and I?m looking at several postcards that I have gotten from parents with pictures of kids using their Dynos (Elemental Path learning toy).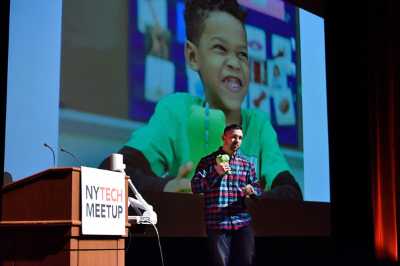 JA: In the Marines, you did a lot of intelligence work with high-tech systems. What inspired you to turn that knowledge that you already had into an education business?
DC: It was a big jump. We were taking on a big challenge right from the start. In what we do, the products (toys) use very powerful artificial intelligence that teaches and entertains. The program is trying to understand the kids that are using them. The Marines, and military in general, helped position me to take the challenges that you have in a business and create products and scale them. The Marines equipped me through the technology I was able to use in the Marine Corps. I was able to fly drones before people really knew what they were, and use other technology. It was the responsibility I was given as a 20-year-old kid while I was deployed and knowing that failure wasn't an option...that prepared me. In startups, you constantly have limited resources. You have a timeline you have to make, and you're going to face hurdles and hiccups along the way and you can't make excuses and stop doing it. You need to figure out the problem, ways to address it and apply several ideas to figure out a solution. The Marine Corps helped me with all of that. The Marine Corps is all about quality and leadership and being agile and creative in the challenges that you face. Leadership skills and certain thinking skills that have developed through the military come together to make most veterans equipped to be really good business owners and leaders, especially in technology.
JA: When you were starting this new venture, who influenced you the most?
DC: When we started out, I was really underqualified. There were so many things I needed to learn quickly and figure out how to do. A big advantage that I had was already being a part of a solid network of people (other veterans). I was actually able to connect with other veterans who had experienced the same or similar challenges, and they were always more than happy to give their insight, ideas and expertise. Coming out of the military, it was great to have other vets who were willing to help. I really encourage others coming out of the military to use the strong veteran network. Today, I currently run the New York City of Vets in Tech. What brought me to where I am in this organization is when I was starting Elemental Path. I started to go to these events to meet other veterans that I could get insight and advice from and I found several mentors. By going to these events, I was able to pitch my ideas to a group that were welcoming of new concepts. They were happy to give advice and feedback. Not only have I met great people, and have been able to gather feedback, but I have also found investors that support the company (Elemental Path).
A final thought Donald left JA with was the fact that veterans have strong skill-sets that should be advertised to more companies. The training and knowledge acquired in the military are not limited and instead can be integrated into various business environments.
JA thanks Donald Coolidge for his service and looks forward to Elemental Path's newest smart toy, Scout!
About Donald Coolidge:
Donald Coolidge is a NYC-based entrepreneur with a passion for consumer technology ? with a specific interest and focus on the intersection that exists between people and the technology we increasingly use every day. Donald launched his first startup in 2011 and in 2014 he unveiled CogniToys, internet-connected smart toys that are changing the way a generation of digital kids learn and play.
CogniToys are a Time Magazine Best Invention of the Year and were tabbed as the "Best Use of A.I. in Education" by the coveted A.I. Awards. CogniToys are powered by proprietary Friendgine technology that bring voice enabled devices to life with knowledge, personality, interactive content and much more.
Prior to becoming involved in technology, Donald served 8 ? years in the Marine Corps in Iraq, Kuwait, Mozambique and Senegal. He?s passionate about mentoring young veterans and advocating for the veteran community. Donald currently serves as the NYC Director of VetsinTech and has participated in the Urban Justice Centers Veteran Advocacy Project, along with the Intersections International Veteran-Civilian Dialogue.
Marine Corps Service Dates: 2005 -2013
Enlisted Reserve: 0311 (B-billet, company level intelligence cell)
Iraq 2008-2009
Kuwait, Senegal and Mozambique (for smaller periods of time)
We use cookies to provide you a personalized experience. How we do this is by analyzing user behavior on our site and sharing data with our advertising and analytics partners. You consent to our cookie policy if you continue to use this website.